Since January 2019 Company Directors have extra E

nvironmental Management

responsibilities.....
At Country Landscapes we can help you meet your environmental responsibilities and ensure your business gains key benefits by dove-tailing your environmental responsibilities so that it works for you from the ground upwards!
We take a FRESH APPROACH so you can really begin utilising your company's NATURAL CAPITAL!
FREE assessment
We start with a FREE assessment of your site - poorly maintained sites can actually cost your business more, whilst devaluing your property. Typically "lowest cost" "cut the grass" approaches leads to things looking tired, under utilised & neglected....
New Directors Responsibilities
Since January 2019 many directors have a legal requirement to report on the impact of their company's operations on their environment in their Strategic Reports and publish this on their web site.
Your environmental natural capital may well be one of the 1st things visitors see both onsite and online, reflecting on you and your business!
Improve your company's Natural Capital - 6 REASONS to start with your grounds
1. Better managed surroundings CAN SAVE YOU MONEY!
| | |
| --- | --- |
| | Good site maintenance prevents slips and falls in the workplace or at home, safer paving, jet cleaning slippery moss, and the most cost effective item - weed control reducing trip hazards. A fresh view is a great way to see what's needed. |
| | People prefer to live and work in pleasant green spaces - if you have a business...it won't harm your recruitment and employee retention having a pleasant green place to meet, work or relax. |
| | Professionally qualified operatives will also save money, by organising work and hazard reduction. By correct application (not over applying) treatments such as de-icing salts and weed chemicals to prevent plant loss and reduce material costs. |
2. Planting improves corporate image - increasing profits!
| | |
| --- | --- |
| | Preventing accidents and insurance claims are a good way to keep EXPENDITURE costs down but property owners wanting to maintain or increase the value of their assets usually find valuations increase, simply by "sprucing up" their surroundings. When properties are professionally landscaped, they stand out from the crowd - they become more attractive and saleable. |
| | This aspect of corporate image is often given lip service or even overlooked.... People prefer to shop in shopping centres with high-quality planting and tree canopies, shopper will also stay longer if the landscaping is pleasant, for example most restaurants or bars with a view will be more attractive and popular than those in a basement or overlooking urban concrete. It's no coincidence businesses set in pleasant surroundings are often more successful. |
3. Planting improves work conditions & reduces heat stress.
| | |
| --- | --- |
| | Extreme heat is detrimental to productively, making people tired, irritable and less motivated to work. Trees and lawns are cooler than tarmac, concrete, even bare soil. Trees, flowers and lawns mitigate extremes of temperature changes, creating cooler areas in summer. |
| | Trees on the south and west sides of the building can provide shade during the hottest times of day and lower your building and offices temperatures. They also can reduce glare through the windows. |
4. Did you know?
Green spaces improve air and water quality, and help off set carbon footprints.....good quality air is better for health, whether a roof garden or just a few plants in tubs, they improve our environment inside and out, and are especially important in built up areas.
A large tree can absorb around 10kg of carbon dioxide per year - according to the Winrock calculator 1 hectare of broadleaf woodland can absorb over 200 tons of C02 in 20 years! Lawns, shrubs and trees help capture dust and smoke, absorb carbon dioxide, and producing life-giving

oxygen. For businesses this may already be an important commitment in your Environmental Policy, for large sites, helping to off set your carbon footprint or vehicle emissions.

A

simple way of helping protect native flora and fauna is to ensure continuity of native vegetation.

It's interesting that one large tree can supply clean oxygen for at least 1 person for a whole year! Most businesses could do more by ring fencing a small annual budget for planting. When was the last time you planted a tree or some much needed (by bees and insects) native daffodils or bluebells ?
Flooding causes immense damage and disruption. How much would your insurance premium increase if you had such a disaster? Often we can prevent flooding and disaster downtime by having well maintained drains, and porous hard surfaces, and of course more planting!
Creating storm water catchments and buffers, reduce the flow pollutants and sediments straight off harden surfaces such as roofs and car parks, to nearby bodies of water. Plants can also help filter out pollution from the water on its way to a sources of drinking water. Planting along rivers also reduce erosion and flooding downstream.
5. GREAT LANDSCAPES CAN MAKE YOU MONEY!
| | |
| --- | --- |
| | Your surroundings send many messages to your clients and conveys your professionalism! Subtly showing you "follow through" on details such as your bit to safeguard the environment, and having a high regard for environmental can help SHOWCASE YOUR APPROACH to other similar ethical matters, may well help you land the big one! |
| | Reduce air conditioning costs by planting more trees, flowers, grass around home and work areas can help, making it a cooler, more pleasant to be inside or outside. Check out what a 30% reduction in your conditioning costs could mean to your business! |
| | Diverse habitats are important. What have you done recently to encourage and support indigenous wild plants and fauna in your landscape? As a business wouldn't this be a great initiative to highlight in your environmental plan? |
| | Financial savings could be substantial - when was the last time you considered environmental initiates to recycle water, or initiative to save or retain of rainfall? |
| | Planting suitable ground cover reduces fuel consumption and reduce noise pollution from lawn mowers etc.. |
6. Good surroundings make you happier!
| | |
| --- | --- |
| | There are plenty of studies highlighting physical and psychological benefits.....simply seeing green plants is proven to reduce stress and blood pressure! |
| | Hospitals have realised the benefits of beautiful green surroundings realising cost benefits such as reducing recovery times. |
| | A great natural environment helps relaxation, helping to improve concentration, motivation and focus. People living or working in or near green report lower stress levels. |
| | Having a pleasant place, to relax for a short time, or help bring people together, encouraging ideas and co-operation. |
MAKE YOUR SURROUNDING WORK AS HARD AS YOU DO...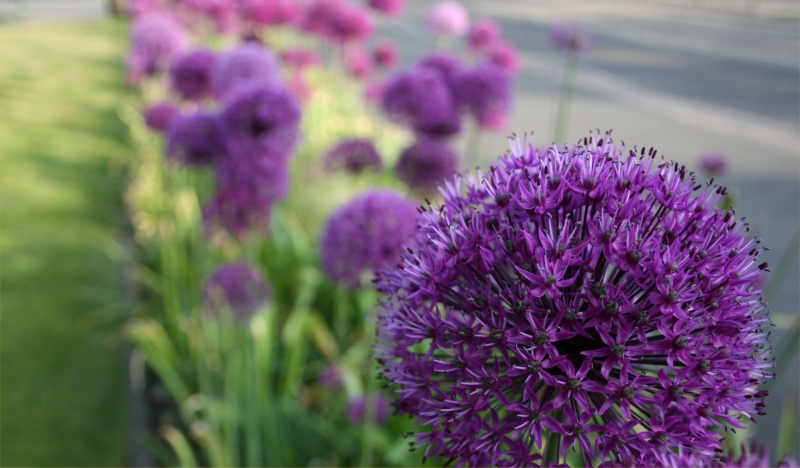 By dove-tailing your environmental policy to your green spaces, you're helping the environment, meeting your requirements under the new legal requirements and boosting your bottom line!
Call Country Landscapes on 01204 402222