Feedback Ratings & Testimonials
Country Landscapes encourages all customers to give feedback on aspects from gardening and grounds maintenance to tree surgery, so we can continually improve our service.
What our clients say....
"Their dedication to see the job through whatever we ask of them is fantastic, they've always delivered a great service to us and have never let us down"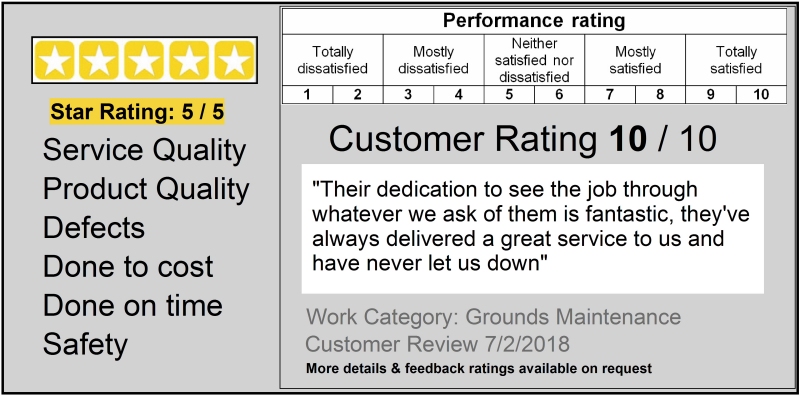 "Very good service as always. I would recommend them to anyone"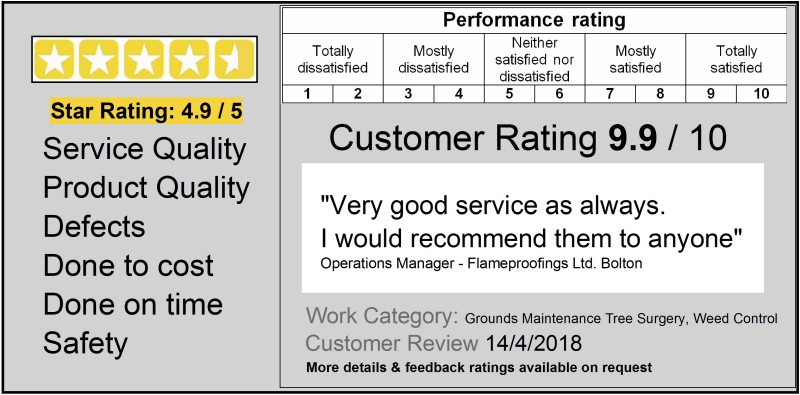 "Safely completed various tree works providing thorough risk assessments & method statements. Work included line clearance and tree weed removal on walls and high level locations"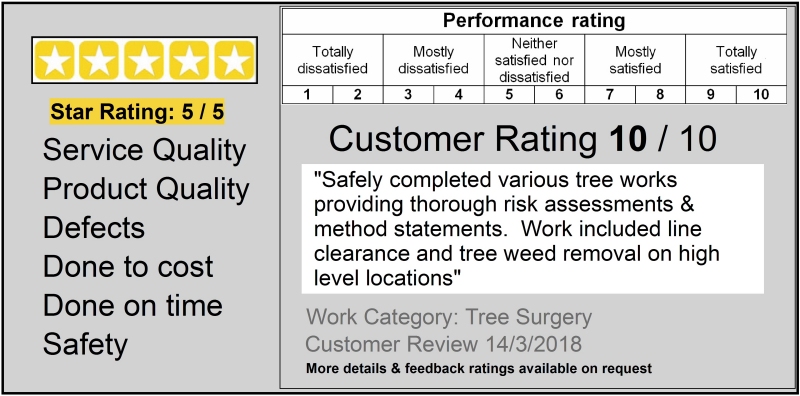 "Owners & staff friendly & helpful. Grounds maintenance & tree works carried out to a high standard. Would definitely recommend"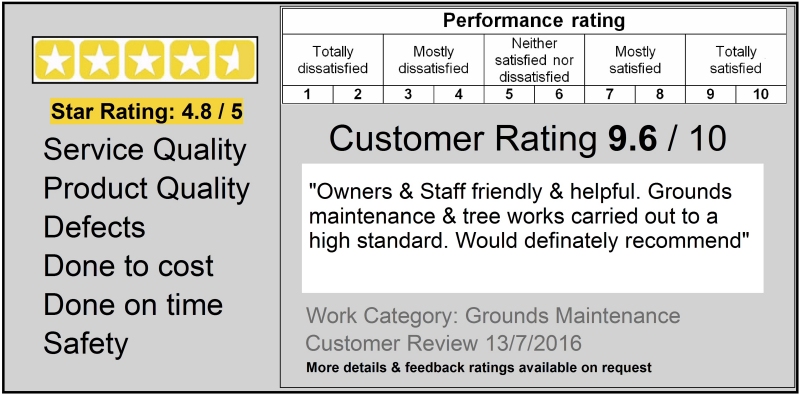 "Successful control of invasive Himalayan Balsam & Japanese Knotweed encroaching our site. Our grounds haven't looked as weed free in years!"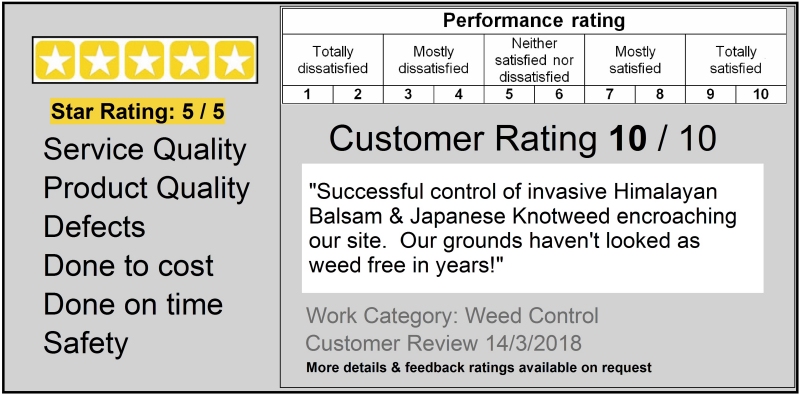 "Friendly staff. Worked through awful weather!"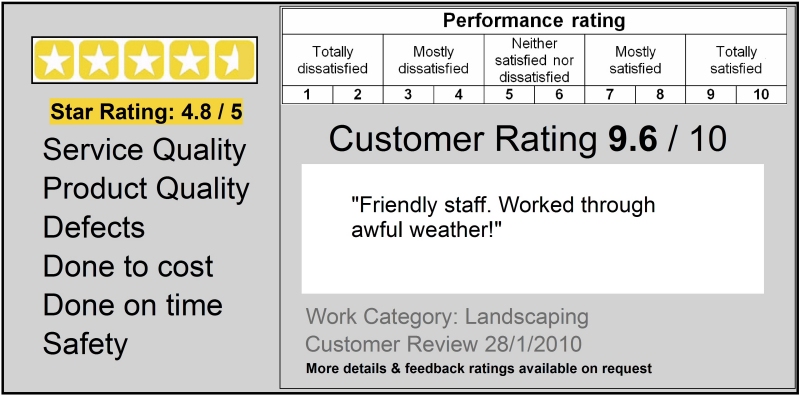 "All work is completed in accordance with our requirements"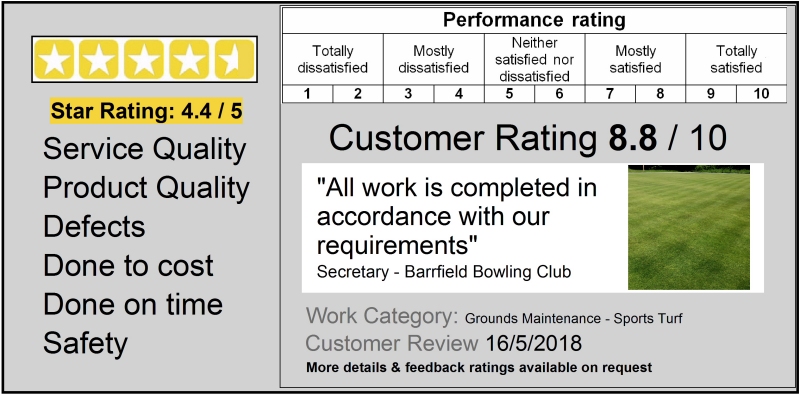 Our latest Customer Ratings
We often benchmark our services (using metrics such as Net Promoter) and whilst many companies have beautiful web sites with promising rhetoric, their ratings and reviews on indeed.com often contrast with tales of woe.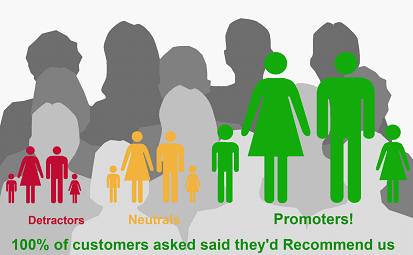 Our Net Promoter Score is 91 which is achieved by working together in collaboration with customers to achieve better value.


Country Landscapes customer feedback ratings are currently 9.4/10 which is 91 in Net Promoter terms. Many of our clients have been with us for several decades.

Performance Ratings - rated out of 10

Totally dissatisfied
Mostly dissatisfied
Neither satisfied nor dissatisfied
Mostly satisfied
Totally Satisfied
1
2
3
4
5
6
7
8
9
10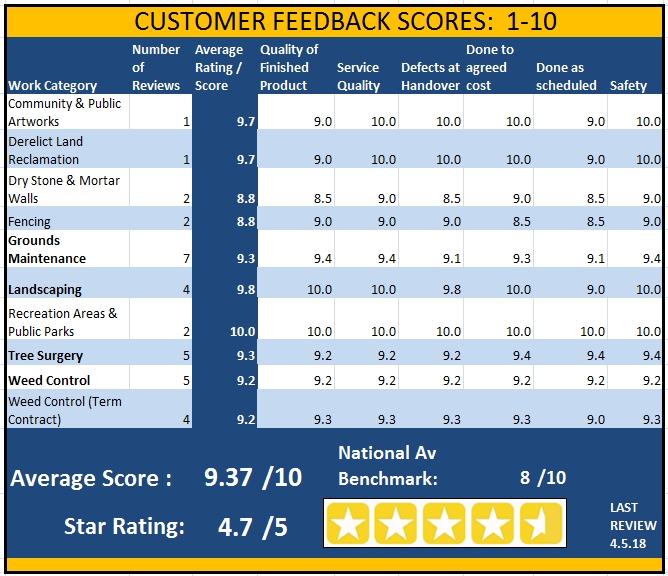 Past Performance Statistics are also available to view.
Original testimonials are available to see upon request and also available on the Constructionline Web Site. Please see the Constructionline VIDEO for information about Constructionline.
Country Landscapes Customers
Here are a few of the clients we've worked for...
Bury Metropolitan Borough Council
Bolton at Home / Bolton MBC
The Museum of Science & Industry, Manchester
East Lancashire Railway
Bradshaw Tennis Cricket and Bowling Club
Mathew Moss High School, Rochdale
Royal Bolton Hospital
BBC - British Broadcasting Corporation -Pdf
Plus lots of domestic clients who will be delighted to show your their gardens upon request!
* According to the web site www.retently.com "a Net Promoter Score between 0 and 30 is a good range to be in, however, there is still room for progress. A NPS higher than 30 indicate your company is doing great and has far more happy customers than unhappy ones. An NPS over 70 means your customers love you and your company is generating a lot of positive word-of-mouth from their referrals."