Country Landscapes Outdoor Careers, Vacancies, Jobs, Training & Employment Opportunities in:
| | |
| --- | --- |
| | Gardener Driver |
| | Horticulture |
| | Landscaping Jobs |
| | Amenity Maintenance |
| | Gardening Jobs |
| | Grounds Maintenance work |
| | Chartered Environmentalist |
A great opportunity to change career, or if you've completed your education and are looking for a creative job and a rewarding career in environmental care. We are keen to provide a supportive environment - and supportive of neurodiversity in the workplace and keen to recruit and work flexibly with colleagues who can bring unique talents, such as attention to detail, creativity, innovative thinking to the team.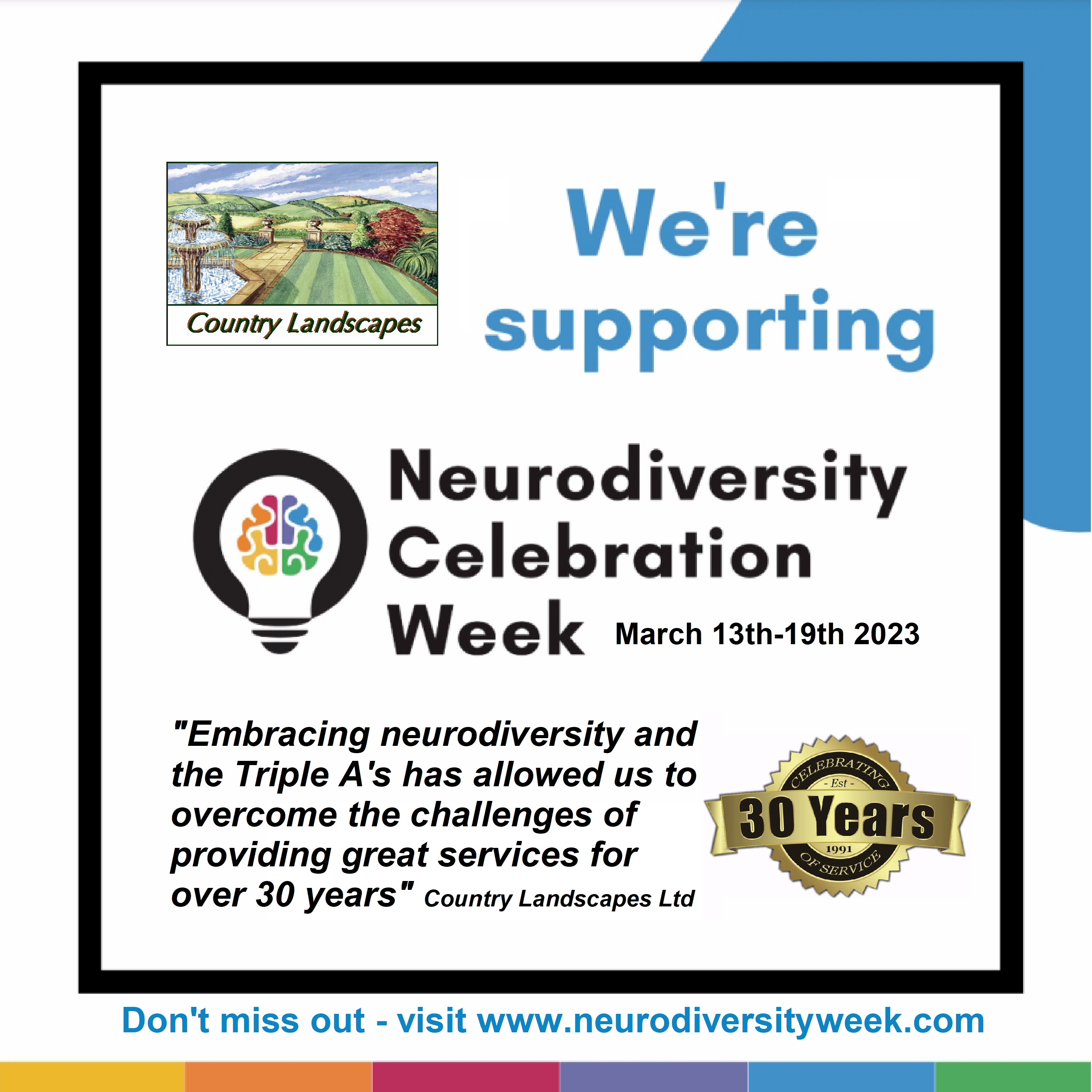 Please see our jobs and vacancies below:-
Seasonal Contract - Landscape Maintenance Operatives - Part Time Flexible - £10.50 per hour - increasing with experience
Join our team on a flexible basis part time - hours to suit - between April and September. You need the physical ability to undertake garden care and landscape maintenance, and ideally have some experience in the use of mowing equipment and other garden machinery.
If you're dependable and interested in gardening give us a call. Professional experience is not essential as training will be with our in-house training programme and we can help you gain certification to further your career, such as NVQ II level in Greenkeeping and Amenity Horticulture.
Drop us an email with your CV or complete the application form below...
Application form - Microsoft Word
PDF Application form for printing
Trainee Landscape Operative - this job will suit any age!
A great opportunity to change career, or if you've completed your education and are looking for a creative job and a rewarding career in environmental care. Proven interest in working outdoors with practical DIY / construction abilities / gardening desirable.
Training to minimum NVQ II qualifications will be provided. Career development up to Chartered Environmentalist status is possible.
An essential requirement is the commitment to undertake training provided and assessed in-house and externally.
We will give relevant in-house training and help you gain certification to NVQ II level in Amenity Horticulture
Work includes all aspects of gardening:-
| | |
| --- | --- |
| | Gardening |
| | Greenkeeping |
| | Landscaping and garden makeovers |
| | Horticultural maintenance service |
| | Garden design |
| | Planting Plants |
| | Exhibitions |
| | Tree and Hedge Care |
| | Environmental care |
Trainee Chartered Environmentalist
As environmental professionals we're working to tackle many of the environmental concerns from grass roots to influencing corporate and government policy and encouraging others to act to safeguard our eco-systems.
If you're enthusiastic about mitigating climate change and want to help tackle environmental challenges, then we can help you get qualified - right up to Chartered Environmentalist.
Chartership reflects a high level of skill and experience and professionalism. Chartered Environmentalists apart from others working in their field, it enhances career prospects through establishing proven expertise , experience and commitment to safeguarding our environment, locally in the UK and across the world.
Team Leader - Landscape Maintenance - £24,000 pa
This full time post is ideally suited to a dependable professional with proven landscape maintenance and arboricultural skills. Landscaping skills an advantage.
The successful applicant will be able to organise workloads & complete projects efficiently, and impress clients with their expertise and craftsmanship. Post would suit a landscape gardener who has perhaps experienced self employment & would prefer working in a team orientated business.
Country Landscapes is committed to continuing professional development. We wish to build on an already excellent in-house skills base and the successful applicant is expected to actively increase their horticultural expertise and knowledge on a continual basis.
Please forward your CV today! For an informal discussion or for more details contact Lee Thorne on 01204 40 22 22.